Keep an eye on
this
thread ;)
Without using a stand alone system like Megasquirt, or a limited "flash" tune from Fastchips, or a Jet Chip which is no more than resistors upping your spark advance a few degrees, the time has come to fully tune our 3.4's.
John Caraher aka ForcedFirebird, owner of 60*inclusive has begun making OBD-1 Swap kits that will essentially change our PCM's, while keeping our wiring the same. How is this done??
By "re-pinning" the connectors and referencing wiring diagrams for the 3.4 he has made harness adapters that are literally "plug and play".
This will turn our PCM's into fully tuneable OBD-1 computers, think 3rd gen tuning.
Using techniques that have been used for many years and have been fully developed it won't take an average mechanic long to tuner their 3.4
When you consider the price of a Jet chip (250$), Fastchips reflash (350$), and Megasquirt (200$ or so, but intense modification to sensors etc.) John's price starts to look pretty good, especially considering the Jetchip and reflash are not even real tunes.
A little more info on the product...
The harness adapter (pictured below) will plug into a stock 7727 pcm (think 91 lumina) and then into your current pcm connectors. The base tune that has been created will let you plug in the harness adapter into the new pcm (with base tune installed via the prom chip) and run your 3.4 like you normally would.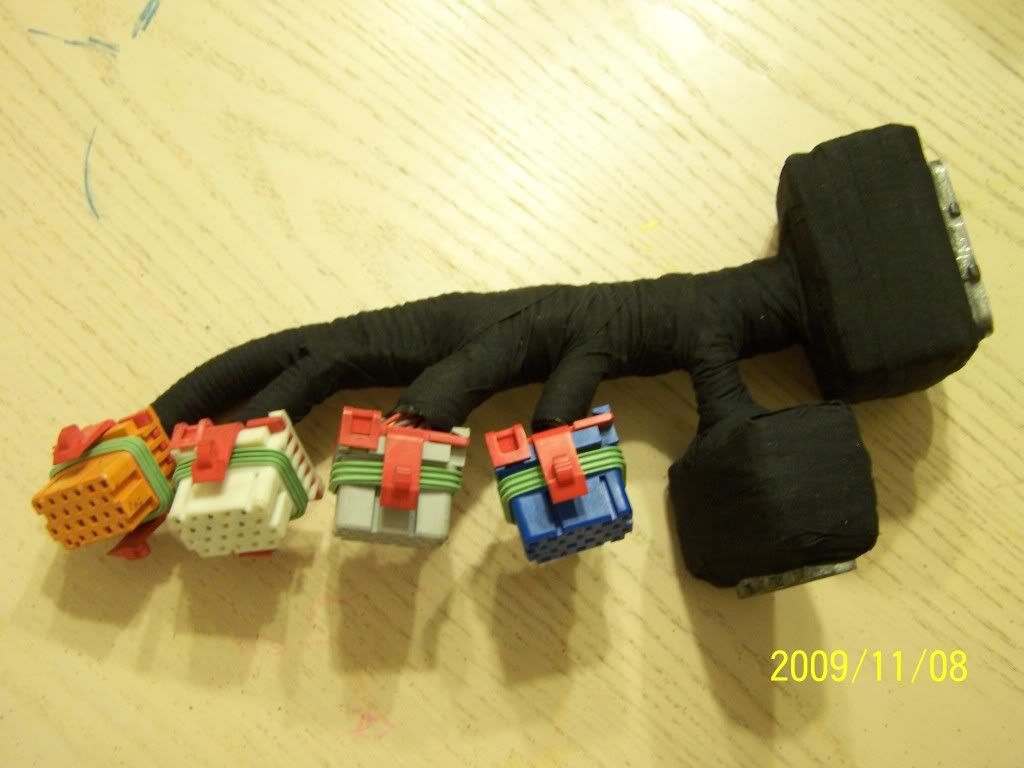 What this means is that we are doing an entire PCM swap....
In about 5 minutes!!!
and of course the best part...
This PCM is completely hacked and tuneable!!!
Whats even more is that once mounted with your stock PCM harness, you can't even tell there is a new computer in there.
John has all the things we need to tune our 3.4's. The harness adapter, 7727 PCM, the base tune, and other things necessary for tuning.
At the most, you will have to buy your own chip burning equipment.
I'm the prototype, or the "Guinea Pig" so to speak :D since i haven't completed the swap yet. But, I will be doing it shortly and i encourage any of you interested in getting more power and control out of your 3.4 to tag along for the ride.
While you might not have a lot of modifications done to your 3.4 that will really make it beneficial to tune, keep in mind that the stock tunes on these motors suck and having a fully tuneable PCM will make any kind of Forced Induction or 3x00 swap a piece of cake.
I'm doing the swap mainly because of the radical camshaft/heads/bigger injectors that are reaking havoc on my stock tune.